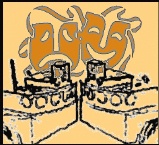 Ullanta Performance Robotics

Selected Works:


Fifi and Josie, A Tale of Two Lesbiots:
A Story of Autonomy, Love, Paranoia, and Agency
Our most popular piece to date, this is a traditional scripted play written by Roxanne Linnea Rae. Performed in Boston, 1995 and 1997, and in Scotland, 1997.
"Play" - G. Stein set 70's disco with childlike robot play. Performed in Boston, 1996 and Los Angeles, 1997.
"Bon Marche Weather" - A precisely choreographed ballet of sorts set to ominous G. Stein poetry and the grotesque fifth movement of Berliotz's Symphonie Fantastique. Performed in Boston, 1996. A traditional scripted play based on the poem of the same name by Paul Genega, set to the A. N. Scriabin's Sonata Fantasy No. 2. This play premiered in the lab in 1998, filmed for Italian television, and commenced public performances in March, 1998 around the L.A. area. It has since been on tour to Paris, Vienna, Boston, and Madison, and has been filmed for documentary feature films ("Inspirations II"?) and various news programs.
Upcoming
Wolf Story - based on a story by Barry Brian Werger
a series of performances which interpret the music of Alexander N. Scriabin, including "Prometheus" and "The Poem of Ecstacy"
and of course Ullantay, the colonial Quechua drama that gives us name and inspiration...


Maintained by Barry Brian Werger... Mail comments!